Social Media Marketing Course
A social media marketing course is a training program that teaches individuals how to use social media platforms effectively. Promote products or services and reach their target audience. The course covers optimizing social media profiles, creating engaging and compelling content, using social media analytics to measure success, and running paid advertising campaigns.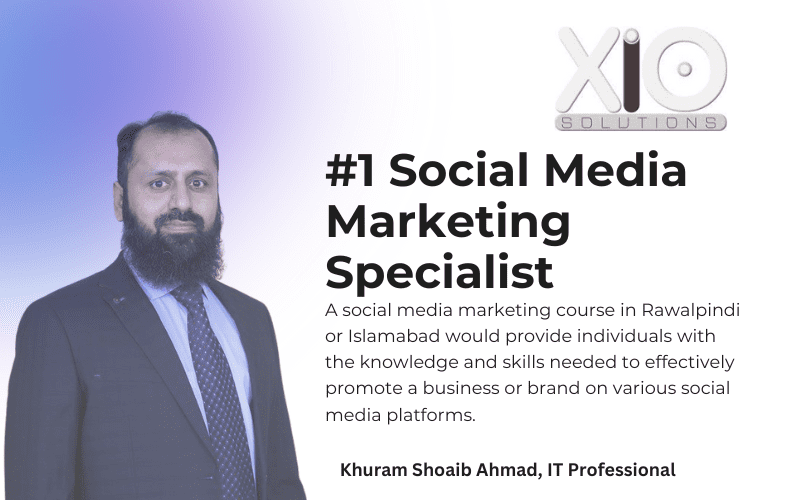 This course is best for those looking to start a career in social media marketing who want to learn more about what it is and how it works. It is essential to find a course that will fit your level of experience and knowledge and fulfill your expectations of learning. A beginner-level approach might be better for someone just starting. At the same time, an experienced marketer might want a more challenging program.
At Xio, we offer a perfect blend of digital skills programs for freelancers, so that they can be able to offer a wide range of digital marketing services. We offer Full Stack Digital Marketing Courses, SEO Content Writing Courses & especially
SEO Courses in Rawalpindi
& Islamabad.
Why Our Courses
Become an expert and stay on top of your competitors' knowledge
100% free of charge
The Ultimate Guide to a Free Social Media Marketing Strategy
Trusted Knowledge
What You Need to Know About Social Media Marketing: A Complete Guide
Available Anywhere, Anytime
Learn new skills by taking an online course in social media marketing anytime, anywhere
Social Media courses with Khurram Shoaib Ahmad
Become a digital marketerHere's how you can boost your business
Short Social Media Marketing Courses
Paid advertising on social media
This part of the course teaches how to create and manage paid advertising campaigns using various social media marketing tools on a specific budget.
Trends on Social Media
This skill covers learning current trends on social media and setting up the campaign accordingly.
Influencer marketing
This is one of the main parts of the social media marketing course, which covers knowing social media influencers promoting a business and product with their influencing and identifying the effectiveness of influencer campaigns.
Content creation for social media
This includes learning to create engaging content for the target audience and scheduling its posting at optimal timing for wide engagement of the target audience.
Optimizing social media profile
This pertains to understanding, creating, and professionally editing business profiles and optimizing the profile according to targeted keywords.
Using analytics
Using social media analytics tools is necessary to ascertain the performance of social media campaigns and the result of social media marketing strategy.
Features of Social Media Marketing Course
Our course provides the latest skills and advanced knowledge of social media marketing, which are highly demanded in digital marketing. It teaches you how to create an effective social media strategy, develop engaging content, promote the business across different platforms, and get the real benefits of social media marketing. Some key features of our course are:
Social Media Marketing Jobs
After completing the social media marketing course, you can easily get a high-paying job for various roles in social media marketing agencies, Digital marketing forums, and SEO companies. Some key posts you are qualified for are:
Social Media Manager
The job of this post relates to the day-to-day activities of a company's social media presence. The post is responsible for creating and scheduling content, engaging with followers, and analyzing metrics.
Digital Marketing Specialist
The responsibility of this post is to develop and execute digital marketing campaigns on social media platforms and create brand awareness for a business's growth.
Content Creator
Content Creator will be responsible for developing and producing content for a company's social media accounts. The content may be text, videos, and infographics.
Community Manager
This position is responsible for building and managing a company's online community through social media. The position is also responsible for engaging followers and responding to customer inquiries.
Social Media Strategist
The job responsibility is to develop and implement long-term strategies for social media concerning business goals.
Influencer Marketing Manager
The influencer marketing manager is responsible for identifying social media influencers to promote products or services with their collaboration.
5000+ people have said how good Xio IT Traning
Some Feedbacks
What people are saying
Sir Shoaib Ahmed makes some of the best educational digital marketing IT training centers! I've learned a lot from him over the years because of his approachable and thorough teaching style
"Sir Shoaib is the consummate professional! His knowledge of IT is extensive and he freely shares it."
"Sir Shoaib is the consummate professional! His knowledge of IT is extensive and he freely shares it."
Why Choose Xio for Social Media Marketing Courses in Islamabad
XIO is a leading IT Training Institute providing quality and market-demanded digital skills in Islamabad and other cities in Pakistan and worldwide. This institute has trained thousands of students who have successfully started careers in well-reputed Digital Marketing Companies. We are known for delivering advanced digital skills that enable students to easily get social media marketing jobs in the market. Key features of our institute are:
Aspects of the course Social Media Marketing
Xio IT Trainings' Social Media Marketing training course offers a wide range of features that enable learners to gain in-depth knowledge and social media marketing and tools. The course covers various topics related to social media marketing, such as:
Social Media Platforms

Advertising

Analytics

Content creation, and more
Students can build brand awareness, increase website traffic, and effectively generate leads through social media marketing. 
Our social media marketing training courses also provide hands-on experience with practical exercises and assignments. That allows learners to apply their knowledge in real-world scenarios. 
The courses are led by Digital Marketing expert Khuram Shoaib Ahmad, who provides personalized attention and support to each student.
Enroll in Xio IT courses and take your social media marketing skills to the next level!
Questions About Social Media Marketing
Is there any discount on the fee?
Yes, there is a 70% discount on Fees for all fresh students; however, students joining courses in the group are offered more discount.
Whether the course offered online in person?
The course is offered online and in person with the same course material. Online courses are flexible, while in-person classes offer the opportunity to have direct interaction with instructors and classmates.
What is the job guarantee after the Social Media Marketing Course?
All Xio students have gotten jobs at reputable social media marketing agencies with high salaries. Some of them have also started earning high incomes on freelancing platforms as well.
Is there any scope for social media marketing in Pakistan?
Yes, Social Media Marketing has a lot of scope in Pakistan due to the conversion of businesses on online platforms, and there has been a significant increase in e-commerce in recent years.
How long does a social media marketing course typically take?
The length of the social media marketing course depends on the type of course selected. Short social media marketing courses take 4-6 weeks, while the full stack course takes 8-12 weeks.
After completing the course, can I earn a certification?
Yes, after completing the course, the students are awarded certification, which can be a valuable addition to a resume or portfolio.
Why Choose Us
Instructors with high experience
State-of-the-art facilities
Live projects for students to gain practical experience
Lab trainer for personalized training and guidance
Demandable certificates upon completion of the course

Discounts available for orphans

Job opportunities are available after completing the SEO course at XIO IT Training Center.
Testimonials (What People Say)
Assalam-o-Alaikum, my name is Usama Arif, and I have been a student of XIO IT Training Institute for the course Digital Marketing Expert. I am proud to say that after completing the course at the institute, I applied for a job in the Digital marketing agency and got a job in my first interview. Today I am earning a handsome income as a reward for this course. I am thankful to XIO for enabling me to start such a bright career.Usama Arif
Digital Marketing Expert
AOA, I am Mukarram Ali from Rawalpindi. I completed a course in social media marketing from XIO to promote a business on social media platforms. After completing the course, I put my business on social media platforms, and in two months, I found a remarkable improvement in sales. I suggest this course to all who want to start a successful business on online platforms.Muhammad Mukarram Ali
Social Media Marketer
My name is Nauman Gujjar, and I have recently completed a Search Engine Optimize course from XIO IT Training Institute and found it the game changer of my career. The instructor was extremely knowledgeable and provided valuable insights on effectively promoting the brand on digital media platforms. The methodology of teaching helped me better understand and apply the concepts. Today I am working as an Expert SEO in a Solution Center with high pay.Nauman
Search Engine Optimizer
My name is Muhammad Waqas Arif, and I recently completed a Content Writing course from XIO Institute. I have found this institute as the best institute in Pakistan. After completing the course, I established accounts on freelancing platforms and started my career with a satisfactory income in three weeks. I acknowledge the standard of the course with the core of my heart and am thankful to the instructor Mr. Khurram Shoaib Ahmed.Waqas Arif
Technical Content Writer
By enrolling in our training courses, learners can leverage the benefits of social media marketing effectively, including building brand awareness, increasing website traffic, and generating leads. Learners can apply newly acquired knowledge in real-world situations through our hands-on training approach. Enroll in Xio IT Trainings' Social Media Marketing training course to enhance your social media marketing skills!
Popular Questions Before Enrolling in Course
Is a Discount available at Xio IT Training?
Yes, Xio IT Trainings offers discounts for social media marketing courses, including first-time and group discounts. These discounts provide an opportunity for individuals and organizations to save money while gaining valuable knowledge and skills in social media marketing training courses.
Is a discount available for referring a friend?
Yes, At Xio IT Training, we value the importance of referrals and offer discounts for those who refer a friend to our social media marketing courses or social media marketing training courses. You can receive a discount on your next course by referring a friend. Our referral program is available upon request.
What is the course structure like?
Xio IT Trainings offers social media marketing courses that cover the fundamentals of social media marketing, advanced social media advertising techniques, and how to measure and analyze social media data. The course includes in-depth activity sessions, hands-on exercises, and real-world case studies to help students develop practical skills for successful social media marketing campaigns.
How much time will I need to commit to the course?
The time commitment for Xio IT courses varies depending on the course level and your pace. Generally, this course requires a minimum of 10-12 hours of study per week, including watching lectures, completing assignments, and participating in discussions.
Will I receive any certification upon completing the course?
For social media marketing courses at Xio IT Training, certification is available after completion. The certificate we offer demonstrates this mastery to potential employers. It provides students with the knowledge and skills they need to succeed in social media.
Frequently Asked Questions
How long does the course take?
The duration of Xio IT Training social media marketing courses varies depending on the course level and your pace. With our self-paced courses, you can decide how fast you want to learn and how much time you must devote to studying.
How much does the course cost?
At Xio IT Trainings, we offer social media marketing and courses to help you develop your skills in this field. The course cost may range from Rs. 12,000 (Twelve thousand only)to Rs. 24,000 (Twenty-Four thousand only). For more information about our fee schedule, contact us on our website.
Are there any discounts available?
Yes, Xio IT Training offers deals on Digital Marketing courses. We also offer discounts on friend referrals. Please contact us or check our website for current discount offers.